Blog Article
Blue stone facade: trends and energy performance
8 April 2021
Your facade reflects your personality and sets the tone for the rest of your house. Blue Limestone of Hainaut as wall cladding offers an answer to the most varied requirements, requests and facade trends.
Do you want a new, modern and energy-efficient home? Are you planning to renovate your facade? Would you like to combine materials and associate a blue stone facade with wood of glass? With Belgian blue limestone it is all possible thanks to the wide choice of placement techniques, finishes, formats and structures. This natural stone - 'petit granit' - is extremely compact and non-porous. Ascending humidity, large temperature changes and poor weather conditions don't affect the robustness and timeless elegance of this natural stone.
Be inspired by the endless possibilities of blue stone as wall cladding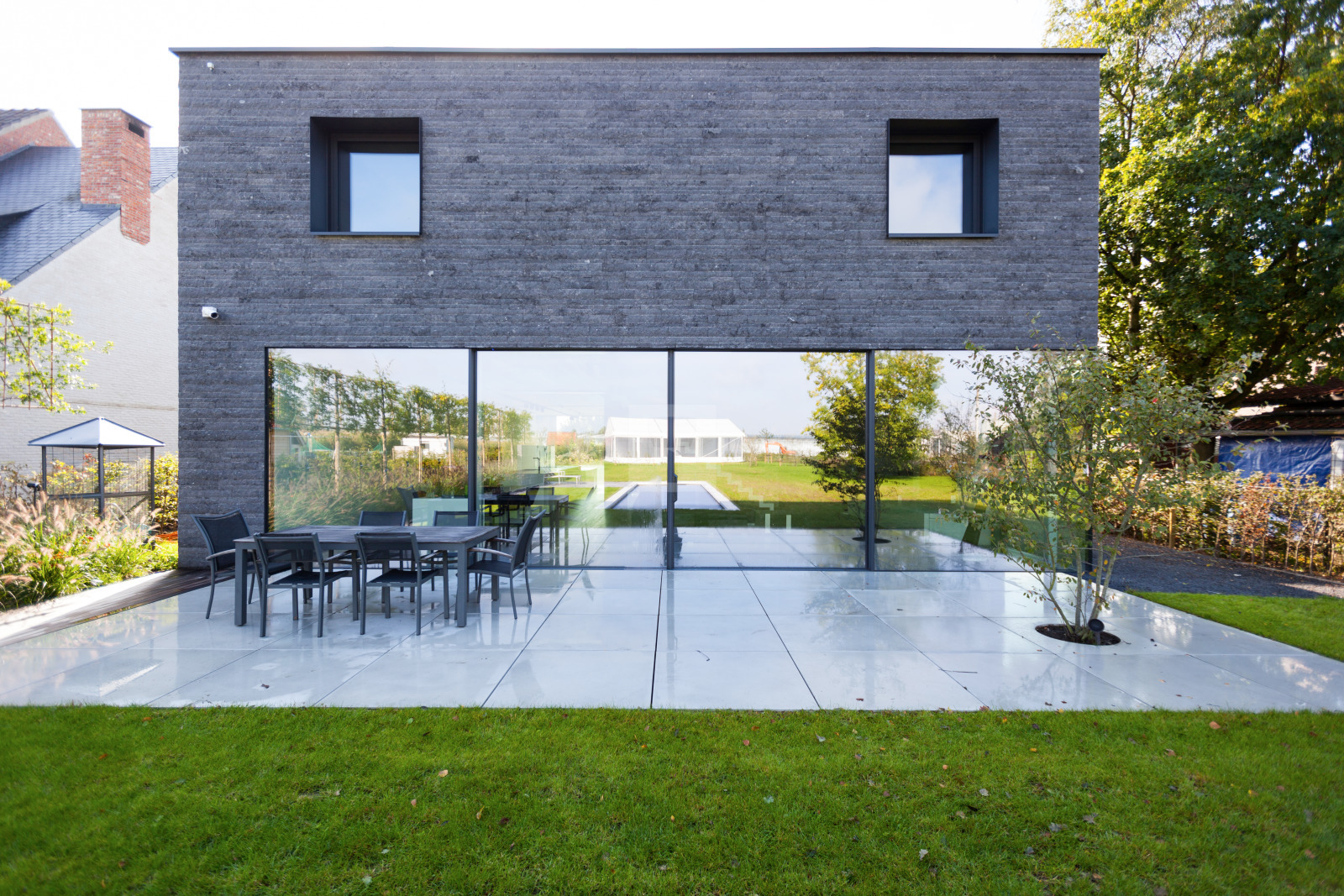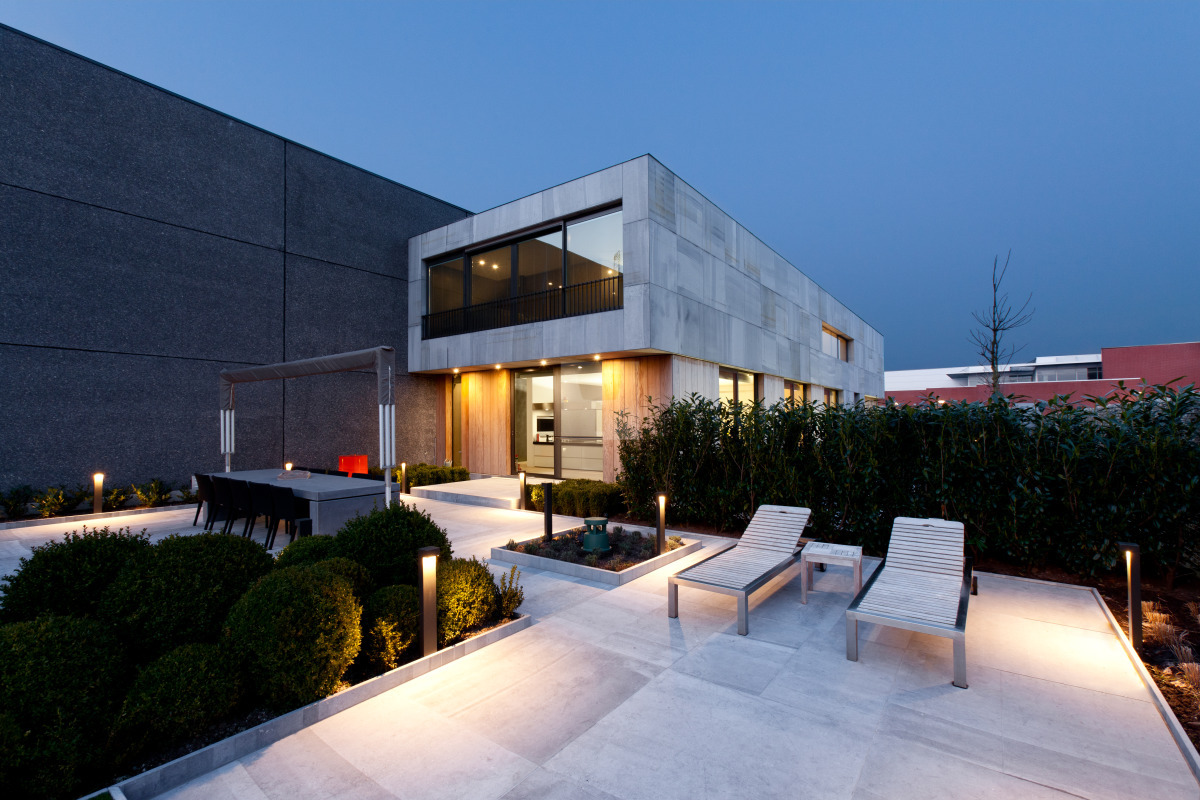 VERSATILE CHARACTER OF BLUE STONE AS FACADE CLADDING
In order to realize your dream facade, a wide range of choices is required. Blue Limestone of Hainaut offers you a wide choice of finishes and placement techniques. Whether it's a ventilated facade, glued or insulated from the outside, choose from the rich array of placement techniques including traditional placement, standard glued, anchored, glued with a honeycomb structre... Choose your placement technique in function of the design of your blue stone facade!
The extensive range of finishes, sizes and textures adds to the infinite possibilities for a blue stone facade cladding. You can, with or without an architect, design a dynamic façade which plays with a variety of dimensions and textures. For a modern facade, large tiles, either square or rectangular, are very beautiful, especially in the light gray finishes EnoSkin or sawn.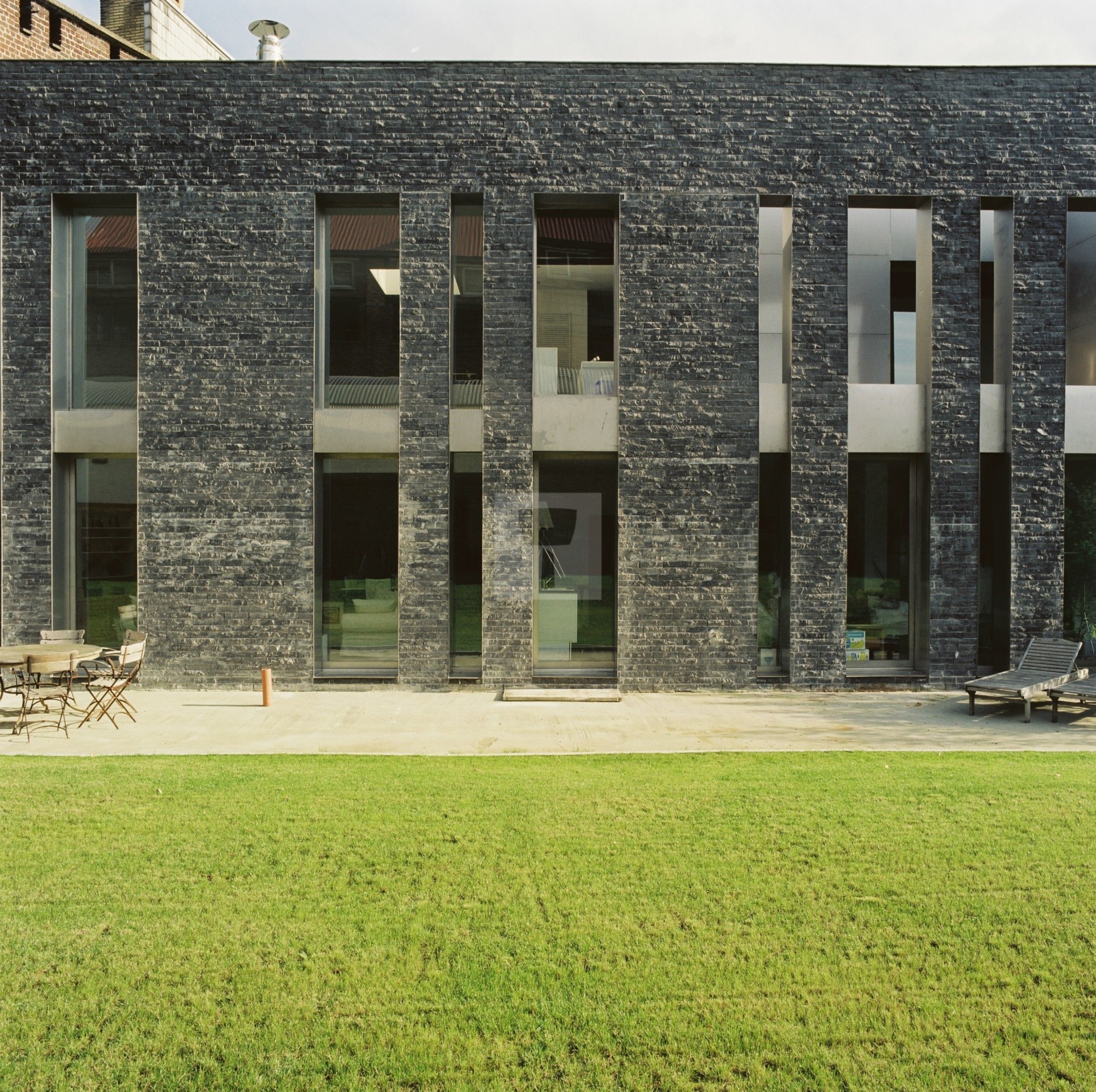 For a more natural and rough effect, choose a cleaved blue stone as wall cladding. The ClivEno wall strips or BrickEno split stones give your house the pure and robust character of this natural stone. The cleaved stone has a beautiful glitter of 'petit granit' in natural light and reminds you of rocks. Belgian blue stone also invites you express your creativity! Imagine a garage door clad with blue stone that is invisibly integrated into your facade. Or blinds in blue limestone. It's all possible!
DISCOVER THE POSSIBILITIES OF BLUE STONE FOR YOUR FACADE
ELEGANT COMBINATIONS WITH BLUE STONE
Decided you want to use blue limestone, but in combination with other materials due to aesthetic or budget reasons? No problem! Blue Limestone of Hainaut combines harmoniously with any type of material, such as wood, glass, brick, plaster, aluminum ...
Belgian blue hard stone is highly regarded as facade classing because of its durable and aesthetic character. Unlike many other wall cladding materials, it is strong, durable and compact, which means that ascending moisture, freezing colds and weather conditions do not affect the life of this natural stone.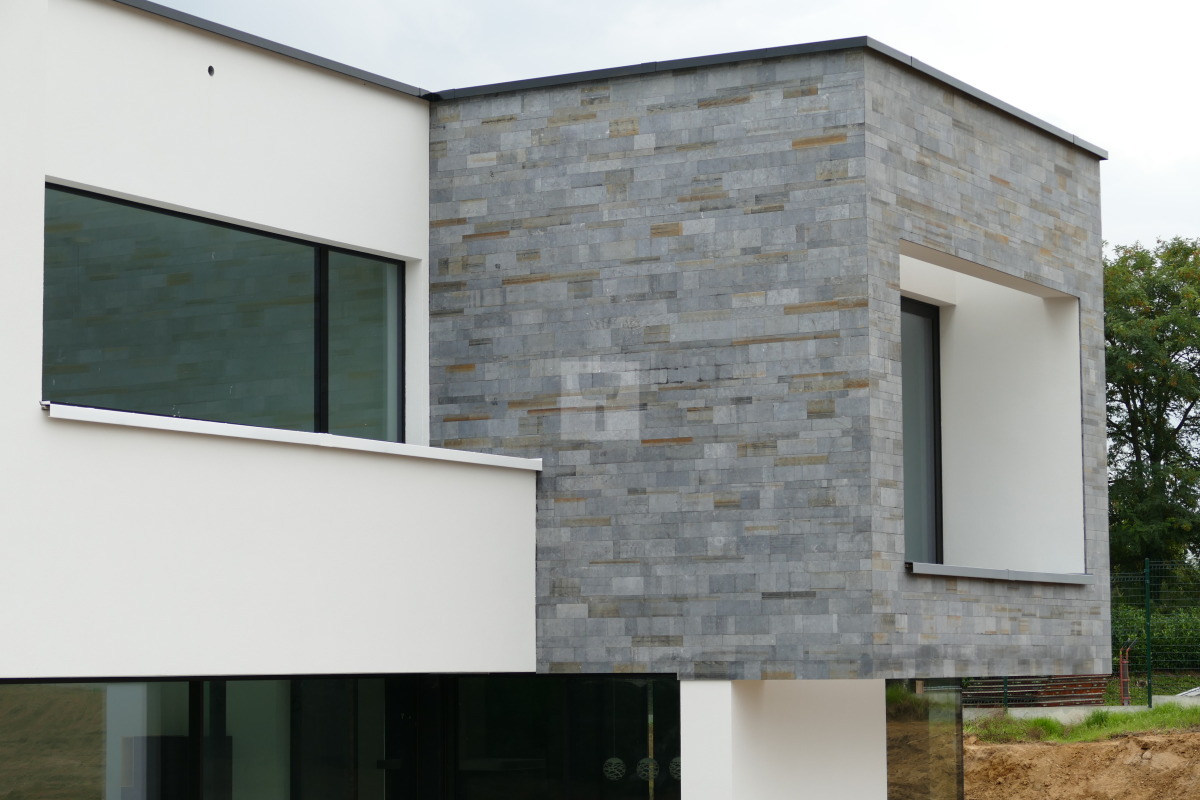 Let certain parts of your facade shine and give it character by varying blue stone with, for example, wood or plasterwork. Or combine a brick or plaster facade with a wall base in blue limestone to protect your house from the most common external aggressions. For facades, the big classics are the finishes light blue honed or scoured. If you prefer textured finishes, go for chiseled or charred.
Do you just want to add a subtle natural elegant accent to your façade? Then choose a sill or window frame in blue stone. This fits harmoniously with all the window frameworks such as wood, aluminum, PVC, ... By choosing limestone you are sure of a durable, sturdy material that withstands time.
BE INSPIRED BY SOME REALIZATIONS
CLEANING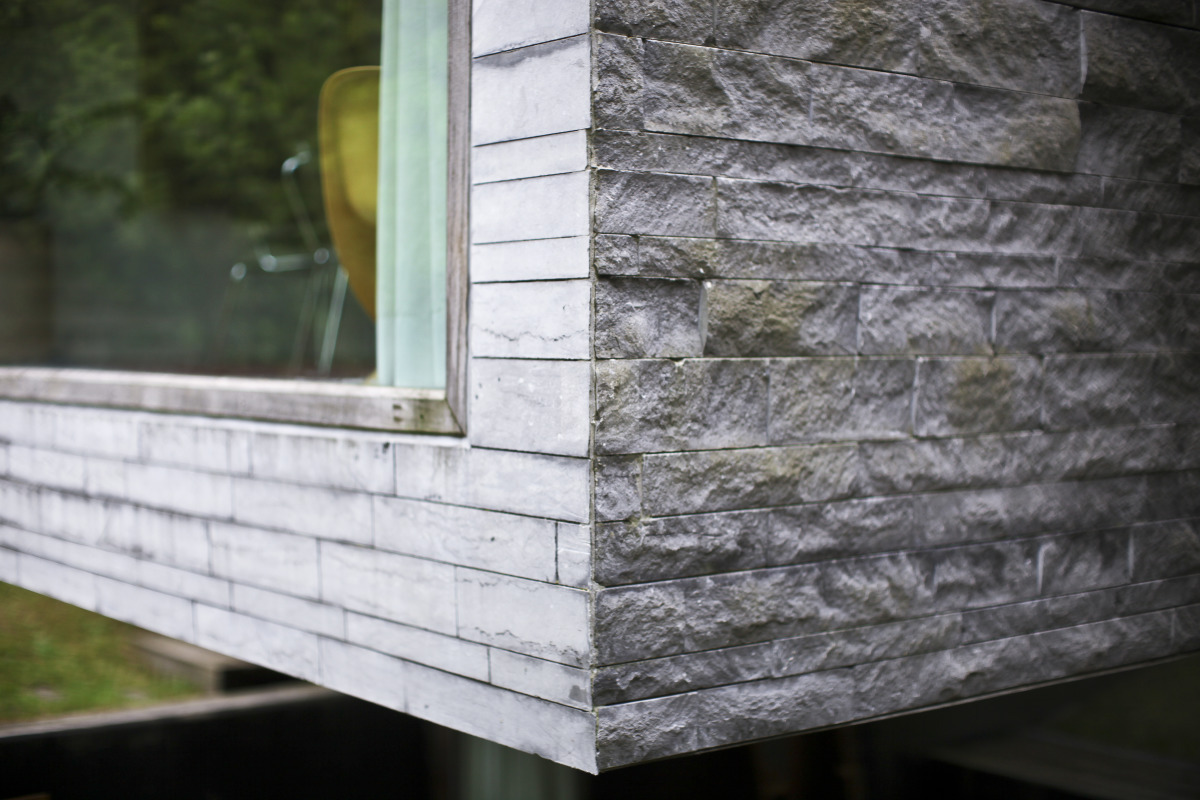 Maintaining a blue stone facade is incredibly easy. Wind and the weather do most of the work for you! Your facade may need a thorough brushing 1x a year, preferably in spring, to remove the vegetation. For this you can use water with a large amount of bleach water. Let it soak, brush with a firm brush and rinse it with water.
---
Download images