Blog Article
The advantages of a Belgian Bluestone floor in your home
27 August 2023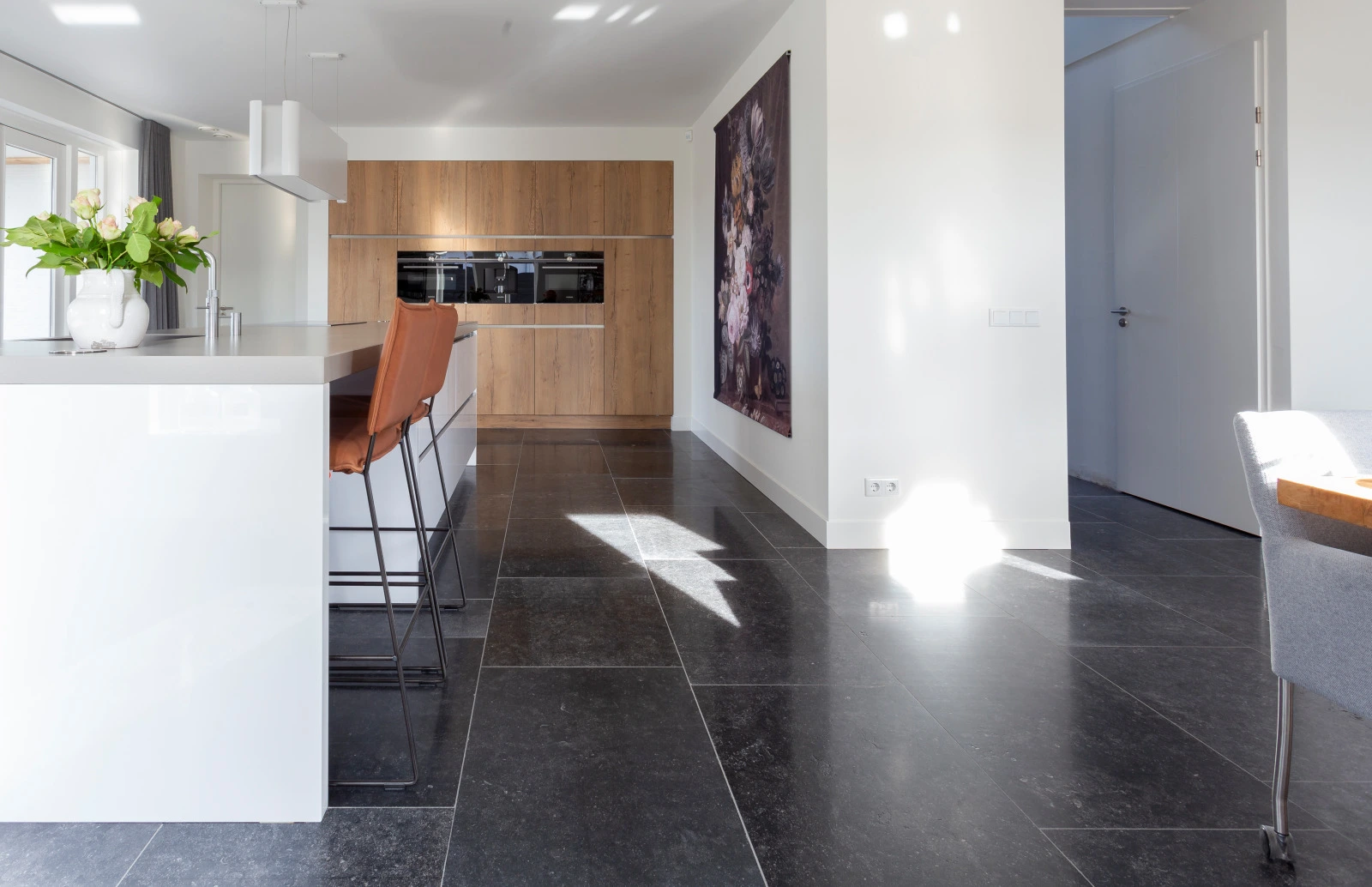 Belgian Bluestone is much more than a simple building material. It embodies timeless elegance and offers a host of benefits to enhance and strengthen your home, both aesthetically and functionally.
If you still have doubts about integrating natural stone into your living space, read on about its many advantages!
What are the advantages of using Belgian Bluestone for your flooring?
Belgian Bluestone is making a comeback in contemporary living spaces. Its timeless appeal, in terms of aesthetics and technical qualities, is winning over architects, designers, and their clients.
1. Timeless elegance and beauty
The advantages of Bluestone are apparent at first glance. Aesthetic qualities, such as the subtle shades and surface structures, add a touch of elegance wherever it is used. Bluestone interior flooring lends a timeless charm that complements contemporary design as well as more classic settings.
2. Easy to maintain and clean
One of the main advantages of Bluestone is that it is easy to maintain. Its natural hardness and low porosity make it quick and simple to clean, meaning it is perfect for keeping your floors looking beautiful.
3. Exceptionally hard-wearing
Bluestone from the Carrières du Hainaut is a timeless material, a strong, authentic stone, that echoes the richness of nature. Its resistance to the effects of daily wear and tear over time make it a hard-wearing choice for your interior floors. These benefits ensure robust floors that will retain their beauty over the years.
4. An ecological and sustainable choice
By opting for 100% Belgian Bluestone, you are making an ecologically responsible choice. Our Bluestone's environmentally-friendly extraction process and its longevity are major advantages, alongside providing a quality material for your home.
At Carrières du Hainaut, we are fully committed to a sustainable development approach.
The daily benefits of Belgian Bluestone interiors
Easy to maintain, and boasting the ability to complement and enhance any room it is part of, Belgian Bluestone is an invaluable material for kitchens and bathrooms.
Its character and distinctive style make it both timeless and on trend.
A Bluestone bathroom combines simplicity and durability. The benefits of Bluestone become apparent in wet areas. Specific surface finishes can increase slip resistance. Its water-resistant properties and easy maintenance make Bluestone a wise choice for floors and bathroom counters.
In the kitchen, the living heart of a home, Bluestone combines aesthetics with practicality. Being so hard-wearing, and with its hygienic properties, it's an ideal material for worktop and floors. The result is a Bluestone kitchen that's both stylish and functional.
Belgian Bluestone, a natural material with many advantages
The benefits of using Bluestone are many and varied, from interior floors to kitchen and bathroom surfaces. Its timeless beauty, durability, toughness, ease of maintenance and its environmental credentials make it an obvious choice for anyone seeking an exceptional living environment.
---
Download images